Our Spring/Summer 2018 collection has been a success so far and we're really grateful that our amazing customers are enjoying this colourful range as much as we do. It's difficult to pick a style (and the inclement weather is not helping either!) but one of our favourites is probably the Ditsy.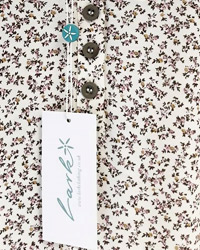 The Ditsy Polo Shirt is a fantastic floral print polo with a summery pattern on a versatile cream background. The bicolour combination of pink flowers and dark green leaves is incredibly flexible and offers multiple options for a truly stunning outfit.
A rich pink will emphasise the flowers, whilst a dark olive green will match not only the little leaves in the pattern, but also the collar and buttons.
Luckily our best selling Cotton Crew Neck comes in a range of colours perfect for any occasion. Choose between Tamaris, a ravishing shade of pink, and Silver Sage, one of this year's favourites.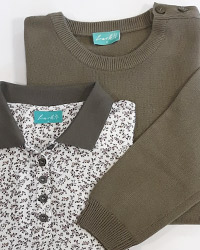 These jumpers have a buttoned shoulder placket, with diagonal cable detailing from the side seam to hem on the front and back.
They are entirely made of cotton and they are so soft we're confident they'll be a wardrobe essential.
Not too keen on crew neck jumpers? Not a problem at all. You'll be able to find the same fantastic shades in our Full Zip Cardigan, a lightweight garment with a fine rib collar, cuffs and hem. Extremely practical, isn't it?
So what are you waiting for? Time to pick your favourite outfit today!