Polo shirts are a classic and have been part of every brand collection. Actually, did you know that's what our company started with back in the 90s? Have a look at our recently updated About Us page if you have a moment.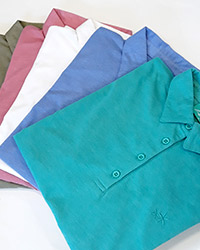 Smart yet casual, our women's shirts are made with high quality fabrics and are in range of styles to suit everybody's taste.
If you like solid colours, you definitely won't be disappointed by our popular Short Sleeve Polo Shirts. In a range of bright shades to enhance any outfit.
We also have the Sleeveless option available in white, so versatile it's definitely worth having one of these in your wardrobe.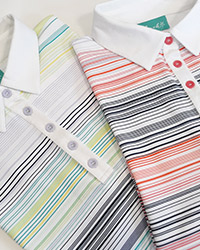 Looking for something different? Stripes could be the answer you're looking for!
We were so pleased to find out at the beginning of the season that our new favourite polo also proved to be our customers most-loved.
This flattering jersey Stripe Polo comes with a variety of coloured stripes, both in a warm and cool palette.
Then again, if you want it all and prefer a mix of pinks and greens, the Multistripe Polo is the best solution for you. Same quality but with the advantage of looking absolutely stunning as part of pretty much any outfit.
Don't forget we also stock lovely patterns and florals, but we already discussed this last week (Inspire me – Ditsy Polo).
Nothing missing right? Choose your style today and get ready for any occasion coming your way this summer.