Posted by Holly on 24th Apr 2021
Following on from our recent re-launch, we thought this would now be a good time to share with you, our wonderful customers, our story so far and all the exciting events and products that we have planned in the near future!
As a small, family-run business, we acquired One Up Golf in 2019, at that time known as Lark Clothing, but we always saw the potential of the band and what it stood for - to deliver quality ladies golf-wear and equipment at great prices.
You will have noticed over the past few months that we have made several changes to the website, including a new logo, which holds a great deal of significance to our family, and this is what we wanted to share with you today.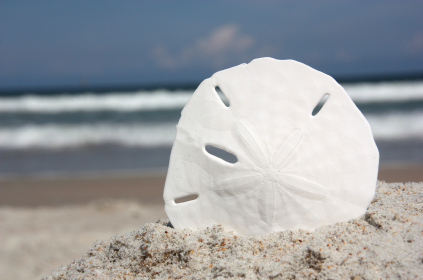 The Sand Dollar. A sign of wonderful family memories made and our little slice of heaven in Florida. This shell, insignificant and numerous to some, evokes cherished memories of pure white sands, rolling waves, and countless times spent together as a family walking along the Florida coastline.
As a passionate family of golfers, when looking for a new logo for our golf brand, the sand dollar which represents so much to us, was an obvious choice.
2020 promised so much, namely a planned re-launch of One Up Golf with great offers and deals for the coming season, but also our yearly visit back to our slice of paradise. However, needless to say the outbreak of COVID-19 and the global pandemic which quickly ensued, soon put a stop to best laid plans. Some pretty dour months followed, with golf clubs and courses being closed and no obvious sign of reopening, we feared the worst for our project going froward.
As weeks spent in lock-down rolled into months, Christmas was soon upon us. Normally this would be spent away with our family, however travel restrictions meant that this was not possible.
This presented a unique opportunity however, with all the family home for Christmas and with time on our hands, we thought this would be the best chance we would get to plan our eventual re-launch.
Many late evenings were spent dealing with tech support, getting the website optimised, and sourcing the best products and deals out there.
February was soon upon us, and with that came the road map out of lock-down. We suddenly had a date to meet and we were keen to deliver! With signs that courses were able to open again and golfers could go out and enjoy the game they love again, we formally re-launched in February 2021 with our latest lines of ladies golf-wear, and haven't looked back since!
We owe a great deal to our loyal customers for sticking with us through this difficult time, and although we are by no means out of this pandemic yet, better times are just around the corner.
We strive to deliver great deals on a weekly basis along with fantastic customer service, delivered by our small, close-knit family.
In the coming months, we're planning to deliver brand new 2021 clothing lines, warehouse clearances and sales, as well as ladies golf club sales where we attend coffee mornings and tournaments with our newest clothing and offers.
Thank you for all your support!
Holly